Term 1
Term 1
This term our core text is The Man Who Walked Between the Towers by Mordicai Gerstein. The book tells the story of French aerialist Phillippe Petit who, in 1974, threw a tightrope between the two towers of the World Trade Centre and spent an hour walking, dancing and performing high wire tricks a quarter mile in the sky. We will use the text as inspiration to write detailed setting descriptions. We will also be revising previously taught punctuation and grammar concepts and applying these within our writing.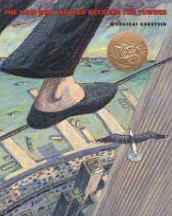 Throughout the term, innovation will be our predominant global theme, as we will be studying the Industrial Revolution in our History lessons. We will consider the features of Victorian society, influential inventions of the era and how the Industrial Revolution changed our local area.
In Maths, we will be exploring number and place value. We will also be revising previously taught skills and developing our problem solving and reasoning skills. Please do continue to learn multiplication tables and division facts at home, as they are fundamental to the Year 6 curriculum.
In Art, we will we be exploring perspective and examining the work of photographer Yann Arthus-Bertrand. We will be taking aerial photographs of our own and creating a single-point perspective painting. We are also lucky enough to be collaborating with our resident artist, Mrs Planck, this term to experiment with our creativity and gain an insight into the professional arts world.
For Computing, we will explore the world of coding. We will be using Purple Mash for this so you could always log on at home and share your learning.
In French, we will be revising our previous learning on masculine and femine nouns as well as completing a new topic called ' Bon Appetit, Bonne Sante.' Which involves translating the names of foods and ordering a meal.
In PE, we will be refining our football and tag rugby skills.
In RE, we will be studying the topic 'What difference does it make to believe in Ahimsa (harmlessness), Grace (the generosity of God), and Ummah (community)?' We will explore the beliefs of Islam, Hinduism and Christianity and discuss three important ideas from these religions in ways that relate to commitment.
In PSHE, we will be learning about health and wellbeing. We will consider how to look after our minds and bodies as well as the impact of technology on our health.