Term 1
Term 1
This term, we are learning about explorer, which encompasses our global theme environment. Our core text is Lost and Found by Oliver Jeffers, a story whereby, a boy explores his surroundings in the hope of finding his lost penguin. We will be writing our own diary entry based on this book. We will use this as a platform to revisit adjectives, verbs and capital letters.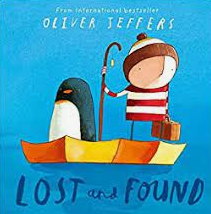 Additionally, we will teach new grammatical language such as 'expanded noun phrases'. This year we have a greater emphasis on Oracy and we will be teaching children key words to learn and put into context.
Maths will focus on number, place value, addition and subtraction. We will recap key concepts from Year 1, such as 10 and ones to 50; securing their number sense and relating number to various real-life situations with numbers up to 100.
In Art, we will be exploring The Dot by Peter Reynolds. This book explores how a teacher inspired a child, who was reluctant to draw by framing her first attempt. Children will have the opportunity to create their own 'Dot'.
To further embed our History theme of 'Explorers', we will be looking at two significant explorers in history: Christopher Columbus and Neil Armstrong.
Music lessons will be based on appraising music and learning to sing our song 'Hand, Feet and Heart' as well as songs to celebrate our Harvest festival.
PSHE lessons will focus on the role of a good friend and exploring what loneliness looks like and how we can recognise and overcome being lonely.
In RE, we will explore the stories of creation according to Christianity and Islam, as well as looking at what RE is and the world's religions in general.
In Computing, children will explore coding and how to create movements.
Sending and receiving, as well as the fundamentals will be the focus of our PE lessons this term.
French will be taught through the classroom environment, such as saying numbers, days of the week and colours.
For reading, please continue to encourage your child to read at home for at least 10 minutes. If you do not have your Bug Club login details, please contact your child's class teacher. Please also continue to use TT Rock Stars for practicing times tables. Reading records are to be brought in every Friday and books will be changed and returned for you to keep for the week. Please not that Bug club is the most effective method for us to assess your child's reading. If you have trouble logging in, please let us know.