Term 1
Term 1
This term, we are venturing back into the past to explore prehistoric Britain. Our core text is The Wild Way Home, a story about a boy, Charlie who has unwittingly fled into the Stone Age and meets an unlikely friend. Together, the boys begin an adventure to try and find their way in the world. This story and its stunning breadth of vocabulary will inspire our haikus and we will also write diary entries from the perspective of the characters in the story. We will be striving to learn some ambitious vocabulary.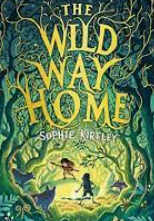 Throughout the term, innovation will be our predominant global theme as we discuss inventions old and new, including the Iron Age rotary quern and create our own haiku poems. We are excited to welcome a virtual Stone Age workshop from Maidstone Museum, where we will explore different artefacts and pose questions about these like true historians.
In Mathematics, we will be exploring number and place value. Initially, we will revise taught strategies from Year 2 before moving on to learning new concepts, including multiplication within the 3, 4 and 8 times tables and column addition and subtraction with exchanging.
In DT, we will be designing and making using textiles. We will design a cushion to welcome the fictional sibling of Charlie into the world. We will experiment with different techniques such as applique and cross-stitch to achieve our desired aesthetic. We will also consider alternative ways of joining materials. If you have any spare ribbon, fabrics or buttons at home, please do kindly donate these to us.
In our French lessons, we will learn how to talk about ourselves in French. We will also revise numbers up to 10 and colours.
In RE, we will be learning about the main beliefs in Christianity and the different beliefs different communities have about God. We will also celebrate the Harvest Festival by bringing in charity donations and learning religious and non-religious songs.
For Computing, we will explore the world of coding. We will create our own computer programs, running and testing these and debugging any errors where necessary.
In PSHE, we will be consolidating our understanding of what makes a good friend and will consider ways of resolving conflict.
PE takes place on Mondays and Wednesdays. We will be learning how to play tennis and football.
For Reading, please continue to read with your child for 10 minutes every day. If you do not have your Bug Club login details, please contact your child's class teacher.